An image file is a file that contains an image data.
These are the most popular formats that are available to view in Windows, Mac, Smartphone, or any standard apps.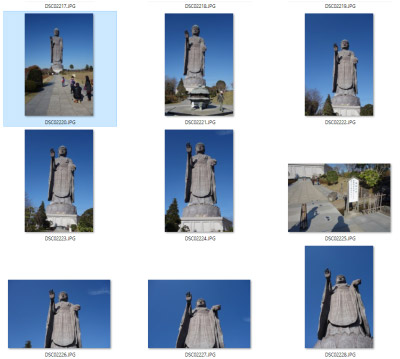 But, you will have a bitter experience if you save an image data in these formats only because you know of. These formats are only for "viewing an image", and are not suitable for drawing and saving an in-progress working image.
PNG and JPEG formats don't hold the layer information. And JPEG format get deteriorated.
PNG format

– Layer information will be lost.
– A file size is larger than JPEG format.
JPEG (JPG) format

– Layer information will be lost.
– The file quality will get deteriorated.
Always save a working file in "a dedicated format". FireAlpaca uses a MDP format. Select "FireAlpaca (*.mdp)" under "File Type" in the dialog window at saving.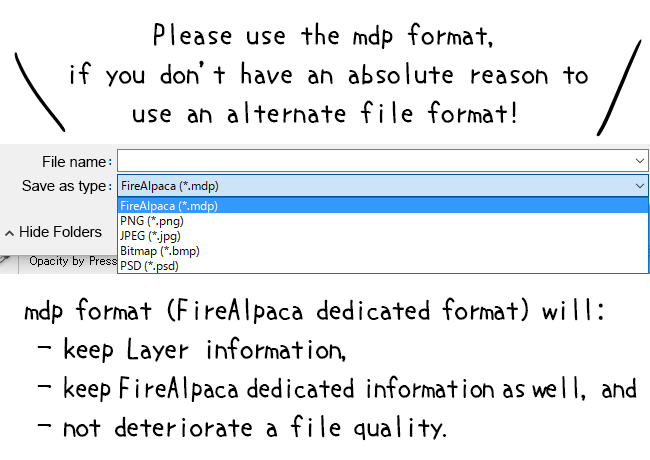 Repeatedly saying this, but PNG or JPEG formats are for the final viewing image file. Once you save a file in these formats, all the history gets lost and you won't be able to edit again. Please save a working file in a FireAlpaca dedicated format.
On a related note, there are some user questions regarding "how to save as an image file in FireAlpaca." All formats available in FireAlpaca is an image file. However, comparing to JPEG or PNG format that will be shown in any Operating System or Web Browser, MDP format may not be shown.
If you are still unclear about the file format,
MDP format is the most suitable for the working file.
PNG format is the most suitable for the final viewing file.
This will be the safest way to choose the best file format.