Animated Painting Part.5
[Final Step – Completion]
Completion
As our final step, we will adjust the color balance to unify the whole image.
Crate a new layer at the top the layers.
This time, we would like to make the whole image more colorful and brighter, so we use "Bucket Tool" to fill the entire image with red, adjust "Opacity" to 10%, and set "Blend" to "Color".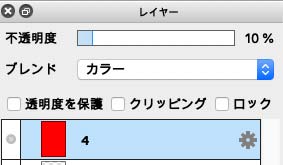 A sense of "Unity Color" is made by putting a color in.
---
Background and decorations are added as well. Please see the image below.
Take a try!! You can make it!!